Many customers ask us how much bike insurance cost in Dubai as compared to other Emirates. It's a very common question. As its a smaller mode of transportation people often neglect the risks associated with it. However, insurance for bikes is a necessary cover in UAE. In this article we will guide you about how you can get the lowest cost of insurance for your bike.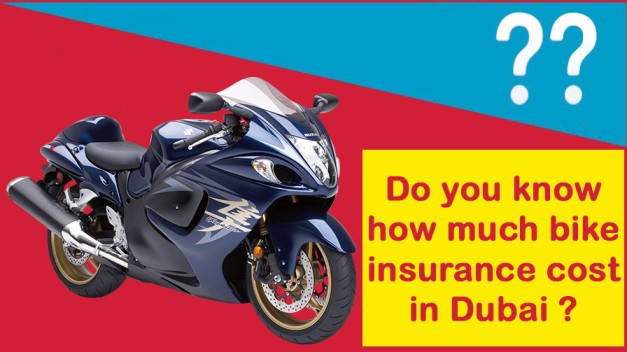 Bike Insurance Cost
Bike insurance cost is almost the same in Sharjah , Dubai , Ajman , Abu Dhabi and other emirates. However, the two differences are a few selected insurance companies provide this insurance and the type of cover you choose.

Reasons for Bike Insurance Cost
The reason why few insurance companies offer bike insurance is because of higher risks. For example, if a biker meets with an accident on a junction , the bike will be totaled with higher chances of broken back , broken bones and even death.
Secondly, the type of coverage offered by insurance companies for motor bikes. There are two types of insurance for bikes which are similar to car Insurance. Comprehensive Bike Insurance and Third Party Bike Insurance.
Types Of Bike Insurances
Comprehensive Bike Insurance
Third Party Bike Insurance
Comprehensive Bike Insurance
As the name is self explanatory , comprehensive means full or total in all manner. A comprehensive bike insurance is a full coverage insurance. It covers the bike and the biker in all cases. Even if the Biker is at fault or not. It covers an accident , injury , burglary or theft , natural calamity , third party liability. It is a full coverage insurance like the car insurance.
Advantages
Fully covers other parties and yourself.
Theft and Burglary is covered.
Injury to third party is covered.
Damages to third party property is also covered.
Disadvantages
The insurance cost is High.
Third Party Bike Insurance
It only covers the third parties in case of an accident. It is the minimum coverage. In case of an accident, only the effected parties are covered and the insured has to compensate by himself.
Advantages
Less cost.
No liability towards third parties in case of an accident.
Disadvantages
Own damage or injury is not covered.
Burglary Or Theft Not covered.
Not covered from natural calamities.
Breakdown and Recovery not provided.
If a company requires Bike insurance for its bikes, we also offer Fleet Bike Insurance. It is a single insurance policy in which all bikes are covered. However , it is mostly used by courier companies and cafes which have large number of motorbikes.
Motorcycle Insurance Quote
To get a cheaper motorcycle insurance quote you have to keep a note of these things.
Age and Driving experience – Age lower than 25 is considered as low age in insurance. And driving licenses less then 1 year is considered risky . If you want a lower price insurance you must be eligible for it.
Bike Model – If your bike is an older model than the insurance premium will be higher. For motorbike insurance UAE, models older than 5 years are considered to be high risk.
Claim History – If you have a history of accidents in the past than the insurance will be expensive. If you have a clean history , then it will favor you will lower insurance premiums.
Type of Bike – Bikes from 125cc to 150cc are considered normal bikes and have normal insurance rates. On the other hand, bikes which are above 150cc or more are classified as Sports bikes and have higher rates than normal.
Conclusion
To get a cost effective price for bike insurance you should brainstorm your requirements. If you are happy and satisfied with Third party bike insurance or comprehensive bike insurance go for it. Because you only know what is important for you. Always keep in mind higher does not mean better and lower does not mean cheaper. It always depends on your priorities.

Our Services
Dubai online insurance has been in the insurance business for long. Over the course of years, we have successfully devised many insurance policies for our clients. Get in touch with us to secure your Liability Insurance in Sharjah. We also provide Online Insurance Quotes on our website.
We as an Insurance(Tameen) specialist, specialize in the following areas :
We provide other covers beside these, also if you have any queries feel free to contact us, and we will designate an insurance specialist to you who will guide and answer your questions. However, Our fast, efficient, courteous team will be at your service.
Contact Us
Email : info@dubaionlineinsurance.com
Tel : 050 717 9800
Map